Visible's Geographic Visibility into Social Media Discussions
What was that new feature, you ask? It's one that's pretty simple, but which has obvious applications. Version 2.8 includes a page view that illustrates the volume and sentiment of conversations by region and country. A picture says much more than words can: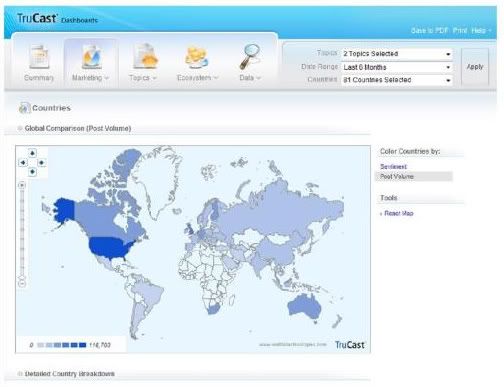 The darker the country is, the more frequently a topic is discussed in on-line conversations in that country. At the next level, a grid provides analytics broken out by country, identifying areas of both opportunity and concern for marketing, communications and customer-service people. Although the first iteration of this focuses on English only, the product is what senior vice president of marketing Blake Cahaill calls "our first step" in making the technology truly global.
English is actually a more challenging first step than it initially appears. "Even among English speakers, there's a lot of variation in language usage and intent," Cahill says. "It goes way beyond extra "u's" in certain words."
The technology uses IP addresses and other simple identifiers to figure out where blogs and posts on social media sites are coming from. There are some pitfalls to this - Cahill cites a blogger in the U.S. who blogs in a language other than English - but the final result of the TruCast approach is fairly accurate and much more timely than trying to determine locations one at a time.
How can this be applied? Cahill suggested a scenario where on-line complaints about service in the U.S. are non-existent, but problems abound in Australia. In a situation like that, it might be possible to then dig into the problem and perhaps export some best practices. Alternately, a company abroad - say, a craft brewery in New Zealand - could monitor converstaions about its products and discover the best choice for a new market based on the buzz (no pun intended) already swirling about its product.